About the GIFE Governance Indicators
The GIFE Governance Indicators are a tool that enables associations and foundations to self-evaluate the level of development of their governance, with reference to the guidelines enshrined in the Guide to Best Practices in the Governance of Corporate Foundations and Institutes, prepared by the GIFE and the Brazilian Institute for Corporate Governance (IBGC). The self-assessment is carried out by filling in an online questionnaire structured around a set of indicators that determine, through assigned numerical values, degrees of governance focused on the voluntary practices carried out by the organizations in different established dimensions. As a result, after applying this set of indicators, the organization receives a full evaluation and can plan better ways to improve its governance.
In this sense, the indicators form the basis for what may in the future be a system of self-regulation of the sector in relation to governance practices, by offering parameters, and promoting dialogue and knowledge on the subject.
It is important to clarify what is not within the scope of the indicators:
They do not constitute a certification process or a seal for organizations;
They do not aim to become a mechanism for disseminating information about respondents or their ranking, as the information is not disclosed in an individualized manner;
They do not necessarily cover, nor are they limited to, current legal requirements, although some indicators may refer to aspects required by law.
This comprises the first attempt in this field, and, as such, it will certainly be subject to revision and changes throughout the project, including taking into account the process of improving the understanding about governance that we intend to foster with the use and dissemination of this tool.
What are the indicators?
The indicators are divided into themes and components – click on each of the components below to access the respective indicator.
Theme
Components
Deliberative Board
Financial and Economic Control and Oversight
Strategy and management
Institutional Policies
Transparency and relationship with stakeholders
What are the objectives of the GIFE Governance Indicators?
To guide organizations in the development of an internal process of reflection and improvement of their governance;
To strengthen the legitimacy of civil society organizations through the impact of best practices of governance, by reinforcing the following:

Professionalization and efficiency;
Durability and financial sustainability;
More transparent and open relationships with stakeholders;
Capacity of accountability and social responsibility;
The performance of activities in a transparent manner;
The fulfillment of their mission, ensuring their public function and expanding their capacity for impact.

To expand knowledge and the exchange of ideas regarding governance of associations and foundations, thus contributing to the debate around this topic in the sector. The very process of developing the Indicators and the dissemination and production of content on governance reflect this objective (see below) (access: Other references, Publications and News).
Improve the governance practices of the sector as a whole.
How were the indicators developed?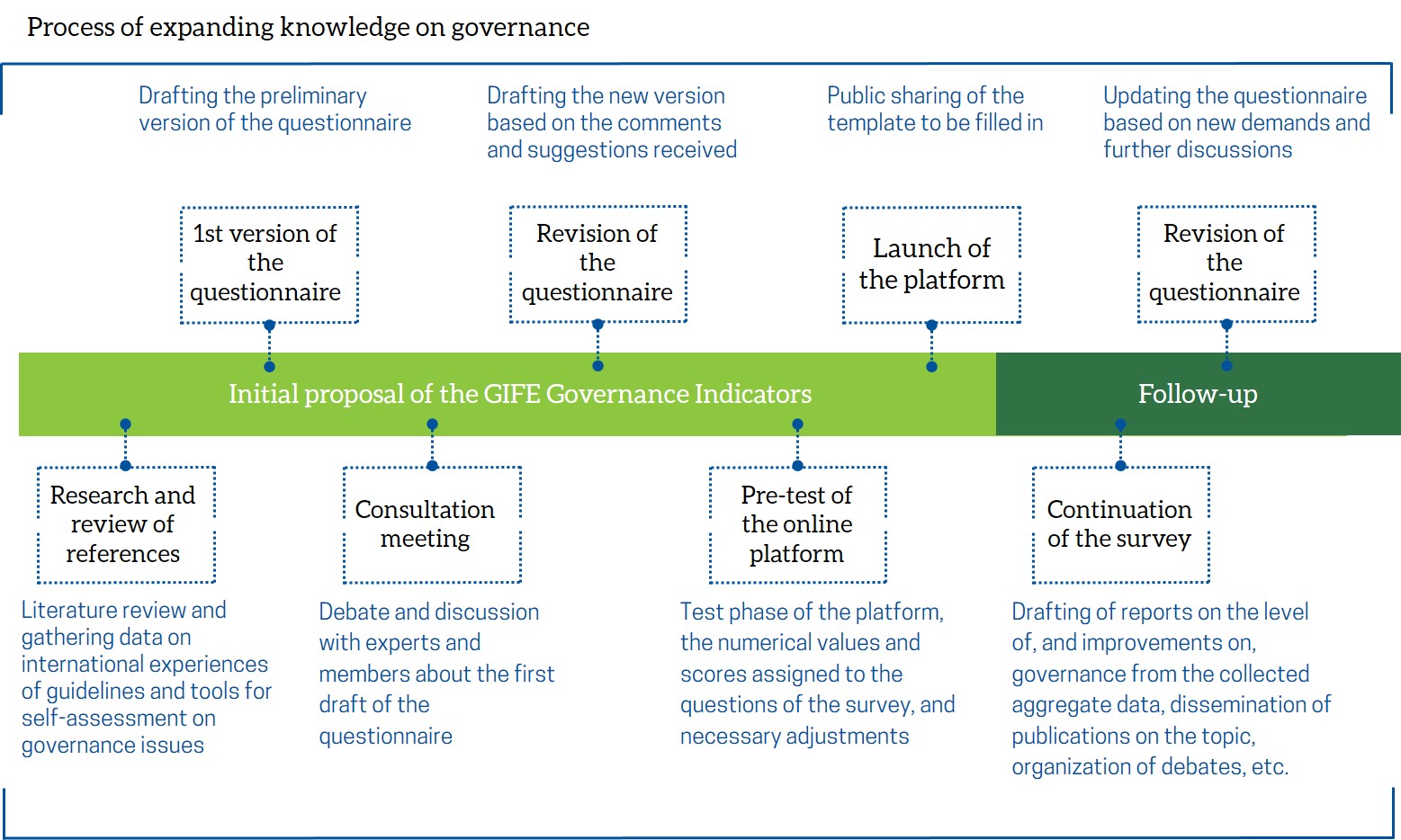 ---